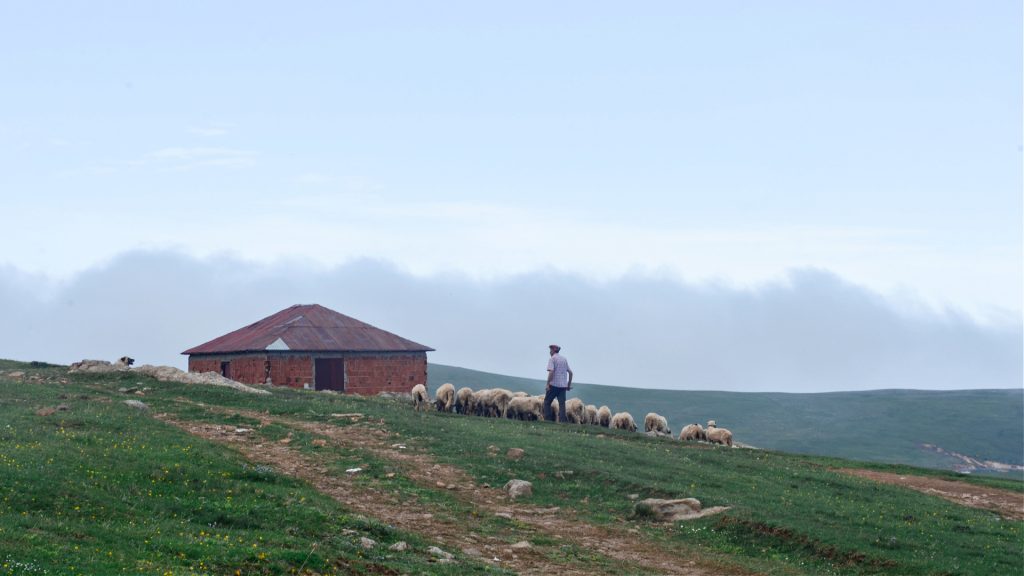 Read This Week: John 10
I am the good Shepherd. The good Shepherd lays down his life for the sheep. The hired hand is not the Shepherd and does not own the sheep. So when he sees the wolf coming, he abandons the sheep and runs away. Then the wolf attacks the flock and scatters it. The man runs away because he is a hired hand and cares nothing for the sheep. I am the good Shepherd; I know my sheep and my sheep know me—just as the Father knows me, and I know the Father—and I lay down my life for the sheep. – John 10:11-15 NIV
From the Psalmist to the beautiful prose of John, one of the most powerful and endearing metaphors and depictions of God is that of the Good Shepherd. This symbolism of a shepherd leading, caring for, protecting, and guiding his sheep is as compelling as it is fitting for the relationship we enjoy with Father God through Christ. As Jesus communicates in this chapter, the imagery of the Shepherd's relationship to His sheep is central and teaches us wonderful truths about His heart, His plan, and His love for us.
First, Jesus presents Himself as the Shepherd and gatekeeper. He keeps watch over the lives of the sheep and tends to their coming and going. He ensures they find suitable pastures that give them sustenance and vitality, and He guides their way into eternal life. Verses 7 and 9 say I am the gate for the sheep; whoever enters through me will be saved. This provision is what the Lord has done and does for us. He watches over us in our daily activities and, by His Holy Spirit, leads us on our mission and to the things and people that bring joy, peace, and good energy. Ultimately, Jesus is our way to eternal salvation and the glorious reality of Heaven.
Then, we see the Shepherd as a protector. He would give his life for the very sheep that He watches over. He is willing to fight the most significant threats and beat back the most daunting adversaries. He defends the sheep from harm and keeps them safe from anything that will come against their well-being. Jesus says in verses 11-12 that the good Shepherd lays down his life for the sheep. The hired hand is not the Shepherd and does not own the sheep. So when he sees the wolf coming, he abandons the sheep and runs away. The Lord is not our hired hand. He doesn't run away when things get difficult or challenging in our lives. Christ doesn't shy away from the enemy or the things of this world that seek to harm us. He purchased and owned us by laying his life down on the cross. He is our protector.
The Shepherd is a caregiver. John 10 makes it clear that one of the most endearing attributes of the Shepherd is that He knows His sheep. He is intimately aware of their needs and how to meet them. He is so in tune with His sheep that they also know Him and His heart. The sheep trust Him and follow Him because they know He cares. Verse 14 reminds us that Jesus knows His sheep and His sheep know Him. It is a beautiful truth to know that God is our caregiver and still sees and remembers us in His majesty, sovereignty, and supremacy. He knows our name and cares for our hearts and souls like no one else. We know His voice and are familiar with His loving arms.
Finally, we understand the Shepherd as a Father. Jesus parallels His own life and eternal relationship with Father God with that of His relationship with His sheep. The intimacy and connection He shares with God are translated through His grace, mercy, and love to those who will call on His name. The Shepherd, through the sacrifice of His Son Jesus Christ, knows us and makes us His own. We are not only His sheep being led to and from His plentiful pastures, but we are His children being nurtured, changed, and prepared for His glorious inheritance. Christ said, Just as the Father knows me, and I know the Father, I lay down my life for the sheep. We are so thankful and blessed that He did. He is truly The Good Shepherd.