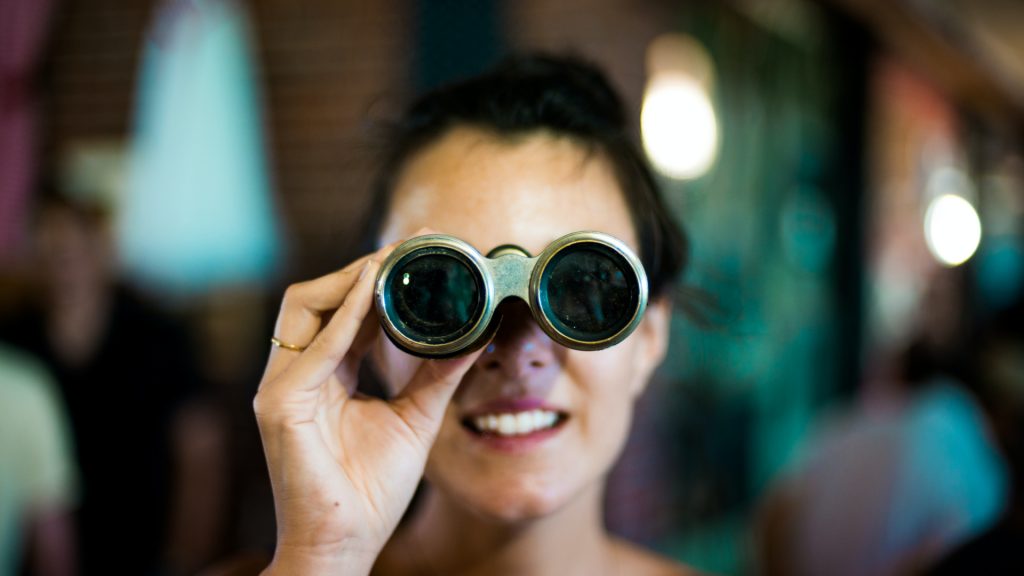 Read This Week: Acts 9
Saul was still breathing out murderous threats against the Lord's disciples. He went to the high priest and asked him for letters to the synagogues in Damascus, so that if he found any there who belonged to the Way, whether men or women, he might take them as prisoners to Jerusalem. As he neared Damascus on his journey, suddenly a light from heaven flashed around him. He fell to the ground and heard a voice say to him, "Saul, Saul, why do you persecute me?" "Who are you, Lord?" Saul asked. "I am Jesus, whom you are persecuting," he replied. "Now get up and go into the city, and you will be told what you must do." The men traveling with Saul stood there speechless; they heard the sound but did not see anyone. Saul got up from the ground, but when he opened his eyes he could see nothing. So they led him by the hand into Damascus. For three days he was blind and did not eat or drink anything. – Acts 1:1-9 NIV
Human beings are all seekers. We come into this life looking for something. For fulfillment, for happiness, for adventure, for love. However, as hard as we seek and look, we often fail to see. See the One thing that brings purpose and meaning to this life and encapsulates all that we desire in the first place.
The great poet, T.S. Eliot once wrote, "We shall not cease from exploring but at the end of our exploration, we will return to where we started and know the place for the first time." Eliot was describing the beautiful contradiction that exists within the human soul. We are, by nature, explorers; curious beings with an appetite for the unknown and a craving to experience what is unfamiliar yet wanting to find answers in the familiar. 
Life is a never-ending story of discovery and longing for where we started. That's why we need guidance and precise direction from someone not limited by the human condition. Someone who transcends anything that may influence or manipulate. Someone with the ability to help us navigate the passage of discovery and truly see what's in front of us.
Such is the case of Saul, later known as Paul. His conversion on the road to Damascus was one of the great events in the history of the church. Perhaps the greatest behind only the coming of the Holy Spirit at Pentecost. He was a learned man studying under the greatest religious minds of that day. But he was also the chief persecutor of Christians and was good at it. Verse 1 of chapter 9 sums up both his zeal for persecution and his murderous intent toward followers of Jesus.
But one day, this hardened intellectual and facilitator of sadistic executions has a conversion experience on the road to carry out a hit in Damascus. The encounter leaves him eternally changed but temporarily blinded. Verses 3-9 tell us of this incredible moment:
As he neared Damascus on his journey, suddenly a light from heaven flashed around him. He fell to the ground and heard a voice say to him, "Saul, Saul, why do you persecute me?" "Who are you, Lord?" Saul asked. "I am Jesus, whom you are persecuting," he replied. "Now get up and go into the city, and you will be told what you must do." The men traveling with Saul stood there speechless; they heard the sound but did not see anyone. Saul got up from the ground, but when he opened his eyes he could see nothing. So they led him by the hand into Damascus. For three days he was blind, and did not eat or drink anything.
Despite all his learning and knowledge and seeking answers, Saul was emotionally and spiritually blind. Everything he was looking for and needed was right in front of him but, he could not see it. He couldn't see that the Old Testament that he knew so well was pointing to the Messiah that he had rejected. He missed the cross and relied on his religion and own righteousness in his search for truth and meaning. Illumination had escaped him. He was a seeker and an explorer looking for the wrong destination.
Now, in a powerful and ironic twist, he was able to see spiritually while being physically blind. He discovered that Jesus was alive and everything that He did, said, and accomplished was, in fact, the work of God and the provision of salvation to mankind. Saul had now heard, experienced, and received the Gospel. He realized he was a sinner and his need for a Savior. He was blind but now he could truly see and his mission would be clear. Verses 13-15 says:
"Lord," Ananias answered, "I have heard many reports about this man and all the harm he has done to your holy people in Jerusalem. And he has come here with authority from the chief priests to arrest all who call on your name." But the Lord said to Ananias, "Go! This man is my chosen instrument to proclaim my name to the Gentiles and their kings and to the people of Israel."
As natural seekers and explorers, may we not just look for truth and answers in what we think we know, but may we humble ourselves under the power of God to see His truth, understand, and act. May every day be an unceasing exploration of God's heart and perfect will and may it be illuminating and revealing in such a manner that it feels as fresh as when we started.