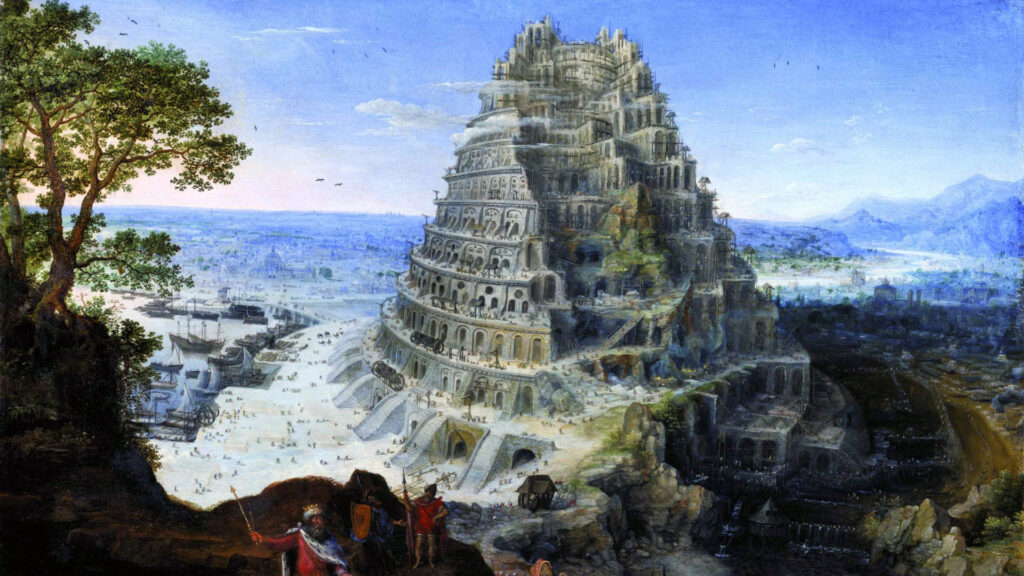 Read This Week: Genesis 10 & 11
These are the clans of Noah's sons, according to their lines of descent, within their nations. From these, the nations spread out over the earth after the flood. Then they said, "Come, let us build ourselves a city, with a tower that reaches to the heavens, so that we may make a name for ourselves. But the Lord came down to see the city and the tower the people were building. The Lord said, "Come, let us go down and confuse their language so they will not understand each other." So the Lord scattered them from there over all the earth, and they stopped building the city. – Genesis 10:32 & 11:4-8 NIV
Although it is an easy and tempting thing to do, romanticizing the lives of biblical characters is a mistake. We tend to do this because of how epic and transcendent their stories are and how it makes them seem superhuman. But they were not. They were just people like us who were broken and imperfect but obedient and faithful to the Lord, His word, and what He asked of them. Their belief in a powerful, supernatural God made them unique in the metanarrative, not anything in and of themselves.
We must remember this when thinking about Noah and other figures moving forward in Genesis. What happened at the end of chapter 9 was just an example of Noah, whom God significantly used for an eternal purpose, being a flawed human being. He acted out of his sinful nature and allowed himself to get drunk and be exploited by his son. He messed up, and so did Ham. But even though one moment impacted their lives, it did not define Noah's life. The most significant thing about his person and legacy was that he found favor in the eyes of the Lord to be worthy to build and captain the ark during the flood and was seen by God as righteous in his generation and admirable to be the seed to replenish the human race on earth.
With this context, chapter 10 lays out the genealogy of Noah's offspring. Even though Canaan was cursed because his father sinned against Noah, it did not prevent him and Noah's other children from multiplying greatly and spreading out in the known world to establish civilizations and anthropologies. Verse 32 says these are the clans of Noah's sons, according to their lines of descent, within their nations. From these, the nations spread out over the earth after the flood.
As we move into chapter 11, we see the establishment of these people groups and nations and how they live and interact. Verses 1-2 tell us about their migration, language, and activities. In verses 1-2, it says that the world now had one language. As people moved eastward, they found a plain in Shinar and settled there. But we also see that even though this is a new generation years removed from the evil, corruption, and immoral behavior that caused the Lord to destroy the earth, sin still prevails in the human heart. Their desire is the same as what happened in the garden; they want to be like God. Verse 4 says they declared: Let us build ourselves a city with a tower that reaches the heavens so that we may make a name for ourselves.
Because they were still sinful, the people of Shinar were similar to Adam and Eve and the people before the flood. They crossed forbidden lines to satisfy their personal and spiritual desires apart from God. They determined at this point that they were on the same plane as God and wanted to build a mezzanine or monument to themselves to worship themselves and their prowess. They wanted to make a name for themselves instead of worshipping the name of Yahweh and who He is. It is a tale as old as time – human beings desiring to be God and living that way. It never works or leads to success. It always leads to poor decisions, chaos, confusion, and being scattered and disconnected.
This disorder and havoc is what happened here at Babel. Verses 5-9 tell us that the Lord came down to see the city and the tower the people were building. Then He says, come, let us go down and confuse their language so they will not understand each other. This language and dialect confusion was effective as the people scattered them from there over the earth, and they stopped building the city. God confused them and bewildered their communication to disrupt their unity around sin and disobedience. The Lord essentially saved them from themselves.
This outcome is not unlike the ones we experience in modern life. We see it in secular culture and Christian culture alike. When we elevate ourselves above God and worship, revere, and glorify men and women more than Jesus, it often leads to destruction for the one desiring worship and disappointment for those who do the worshipping. We observe it in celebrity culture both in the world and in the church. It never ends well. God has to intervene in our lives, save us from ourselves, and turn us to pursuing Him and worshipping Christ, which leads to joy, peace, fulfillment, and eternal purpose.
We all worship something, and in order to find the purpose and meaning that we seek, we must mind what it is that we worship and honor. May we remain faithful to the one true God and the One worthy of worship so we don't have to be saved from ourselves, scattered by our intentions, or experience the confusion, chaos, and letdown of self-worship.