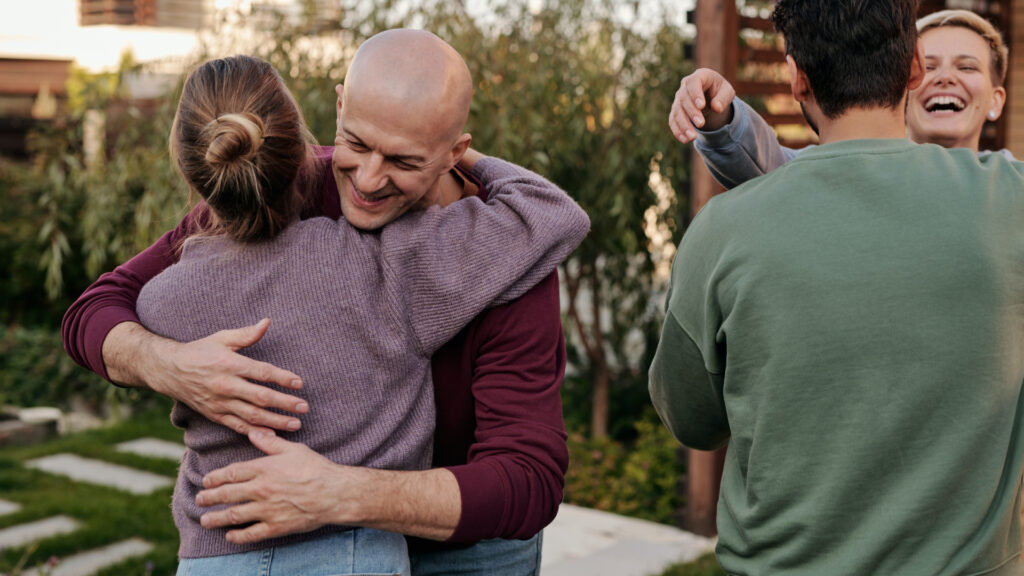 Read This Week: Genesis 2
Then, the Lord God formed a man from the dust of the ground and breathed into his nostrils the breath of life, and the man became a living being. Now the Lord God had planted a garden in the east, in Eden, and there he put the man he had formed. The Lord God said, "It is not good for the man to be alone. I will make a helper suitable for him." But for Adam, no suitable helper was found. So the Lord God caused the man to fall into a deep sleep, and while he was sleeping, he took one of the man's ribs and then closed up the place with flesh. Then the Lord God made a woman from the rib he had taken out of the man, and he brought her to the man. The man said, "This is now bone of my bones and flesh of my flesh; she shall be called 'woman,' for she was taken out of man." That is why a man leaves his father and mother and is united to his wife, and they become one flesh. Adam and his wife were both naked, and they felt no shame. – Genesis 2:7-8 & 18-25 NIV
In the first chapter of Genesis, we see God as the supreme and sovereign creator of the universe. He has no equal and no material in the cosmos superior to Him nor possesses His mighty power to speak things into existence, curate, and sustain them. In Chapter 2, we begin to see an unfolding of God's versatility and personal nature as the designer and initiator of all things. This section introduces the clarifying truth that while God is transcendent and incomparable, He remains ever-personal and relational to what He has made.
The idea of God's relational nature to His creation is seen immediately in this chapter by a new attachment to His name. In Genesis 1, the text refers to Him only as God (Elohim), but in Genesis 2, He has the name Lord (Jehova) accompanied, which implies something else about His nature and character. Jehova is a personal name for God and means "I am the One who is," indicating that God is not an almighty, aloof master of the universe who creates and then stands far back from His creation uninvolved. Instead, He has an ever-present nature that sees, knows, and is with us. The Bible commentator Bruce Waltke wrote:
In Scripture, the term God represents Him as a Sovereign Creator, while Lord shows Him as one who initiates a unique covenant commitment with Adam and Abraham and oversees its fulfillment in history.
This understanding of the Lord God seen in Chapter 2 is important to note and have in view as we read what develops in verses 7-25 with the creation of man and woman. Verse 7 says that man was formed from the dust of the ground, and God breathed into his nostrils the breath of life, and man became a living being. The Lord God exhaled his very essence into man, showing that humans have the breath of God sustaining them and giving them life. It is an amazing thought that God cared for us and valued us so much that we would initiate our creation with His own life-giving breath. He didn't just use the ground to form us but rather placed His vitality in us to bring us to life. To be a living being (v.7b) is to have a soul, eternal value, meaning, and purpose, not just a collection of cells made from the dirt barreling toward an inevitable end.
Now, this living man with a soul and purpose is put in this perfect place called Eden (v.15) to take care of and enjoy it. It has beautiful, fertile trees and plants nourished by four rivers. In the middle of all this is a tree that God tells the man he cannot eat from – the tree of the knowledge of good and evil. He tells Adam explicitly that if he eats from it or partakes of its fruit, he will surely die (v.17). After this declaration, the Lord sees that it is not good for man to be alone (v.18), so he brings animals, birds, and livestock to him for companionship and to give them names. But Adam must realize that this will not satisfy God's relational design for people and the longing for community placed in his heart. So, God waits until Adam is prepared to appreciate this most precious gift, and then He creates woman (v.22).
It is hard to find a more beautiful and intimate picture in all of the Scriptures than God creating woman from man and bringing her to him to form this holy union. It encapsules all that is good about relationships and human connection. It sets the tone for how we are designed to be with one another and to experience a bond and intimacy between us that no other living thing on earth can fully feel. It is also the first picture of marriage and the interdepency that it should express when done according to God's will. The scene is so poignant and moving that Adam recites a poem to honor Eve and the relationship they will share. He says in verse 23:
This is now bone of my bones
and flesh of my flesh;
she shall be called 'woman,'
for she was taken out of man.
May we value our relationships with the same care, appreciation, and consideration. May we see people as living beings with an eternal purpose that God beautifully and wonderfully made (Psalm 139:14). May it enrich, deepen, and strengthen all of our connections and see them as our relational Lord does.